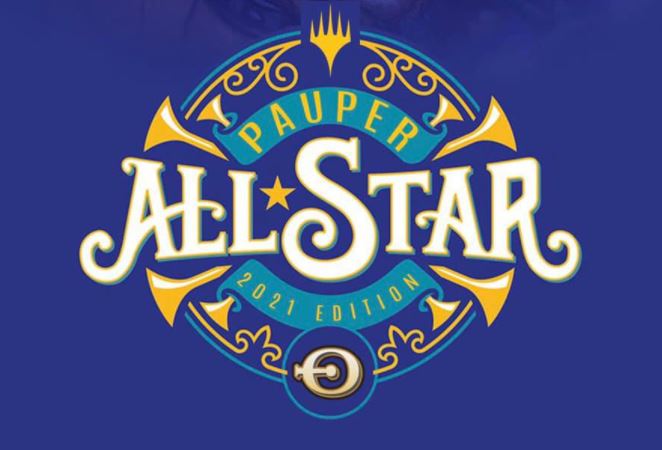 Venerdì scorso, 6 agosto, si è disputato il Pauper All Star 2021, la prima edizione di un torneo ad invito organizzato dagli amici di MtgSalento con la collaborazione e il supporto di IlMultiverso di Sergio De Ceglia. Al torneo sono stati inviati nomi illustri del panorama pauper italiano, sia per la bravura e i risultati ottenuti online che per i contenuti tecnici offerti ai giocatori, in aggiunta un ospite internazionale saidin.raken, molto conosciuto nella community pauper. Diciamo subito che tutti i partecipanti hanno giocato il proprio mazzo rappresentativo, ovvero quello che normalmente viene associato a quel nickname. Andiamo a vedere insieme abbinamenti e metagame di questo evento:
Lasciamo ora la parola ai finalisti:
---
UW Familiar by Akromes, 2nd Place Pauper All Star 2021
La famigghia non si infama!!
Beh che dire, ho fatto tre partire a causa di un drop in corsa, ma ho comunque giocato con 3 persone navigate degli archetipi che mi hanno dimostrato una meravigliosa sportività e non poche insidie. Nei primi giorni dal lancio del torneo si é tenuto un sondaggio su una possibile banlist per non incorrere in una polarizzazione dei mazzi ,che non é stato accolto da tutti; quindi mi sono buttato sul mio pet-deck consapevole che se contro affinity avrei potuto mettere una side di livello 1x revoke existence, 3x Dust to dust, 2x Dispel, con scoiattolini non sarei riuscito a dire la mia e così é stato.

Purtroppo la facilità di accesso al mana i primi turni e le carte ostiche come Galvanic Relay rendono un mazzo con bouncelands troppo lento e inutilizzabile.

In generale però sono stato un po' anche fortunato e comunque giocare con una buona parte dei giocatori piu forti italiani é stato davvero motivante e nel complesso é uscito un gran bell'evento da rifare magari come in Dragonball con le qualificazioni per il torneo Tenkaichi!!
---
Chatterstorm by ilFritto, 1st Place Pauper All Star 2021
Ciao a tutti, sono Nicola Cordeschi (aka ilFritto) ed eccomi qui a raccontare cosa è successo in questo torneo stellare.
In principaio: io e il mio amico, nonché membro della famosa 7A,Matteo Mazzola (aka chumpblocckami) siamo avversari al primo turno e siccome il nostro amico Kevin Basahj, detto il Biscia, ha casa libera, decidiamo di giocare da lui e farci seratina insieme all'insegna delle maggiche e di una signora birra rossa, così da aiutare il vincitore ad andare avanti, mai scelta fu più azzeccata.
Scelta dal mazzo: dalla vittoria alla Pauperwave League gioco, quelle sempre più rare volte che ho tempo per giocare, gli odiatissimi scoiattoli e quindi, per non saper ne leggere e ne scrivere, decido di copiare una lista da mtggoldfish, la mia scelta ricade su quella di TomatoCesse dell'8 agosto con cui aveva fatto 5-0. Impressioni a caldo: forse troppi colori per le basiche (normalmente giocavo 2 paludi) e carte nuove di side che non mi convincono moltissimo, mi fido e non tocco nulla (con il senno di poi avrei giocato più Seal of Fire). Nel dubbio il buon Kevin chiama il maestro Alessandro Moretti (aka A_AdeptoTerra) per farsi spiegare cosa togliere da storm per mettere la side, in caso avessi avuto bisogno di aiuto, come sempre direi.
TURNO 1 vs Matteo Mazzola (chumpblocckami)
Matteo gioca il suo pet.deck, un po' come tutti i partecipanti al torneo, e mi propone AtogShift versione 2019 con cui ha vinto l'ultimo paupergeddon di Milano. G1 vinco il dado, tengo a 7 e scombo. Inutile raccontare come, uno perché non mi ricordo le sequenze esatte e due perché sarebbe abbastanza inutile, più importante soffermarsi sul side in e out (vedi sotto)
G2 non riesco a scombare bene e i miei pochi scoiattoli 3/3 cadono sotto le serpi del mio avversario per essere finite da un krark-clan shaman.
G3 tengo una mano non ottimale e vengo aperto come una cozza da un atog con temur battle rage; tuttavia Mazzola crede più nel mio mazzo che nel suo, o più semplicemnte non ha voglia di giocare contro UW di Jacob, e mi concede il turno. Da qui inizia lo spettacolo.
Side out: 2x Duress, 1x Sign in Blood e 1x Faithless Looting
Side in: 1x Seal of Fire, 1x Dead Weight, 2x Mogis's Favor
TURNO 2 vs Jacob Alstadt (saidin.raken)
Jacob gioca UW Familiar, non ho mai giocato contro all'archetipo. G1 vinco il dado, una Duress mi fa togliere l'unico counter che ha e così si scomba in sicurezza.
G2 il mazzo si spegne un po' e non vedo nulla, ne peschini ne spell con storm, si conce appena Jacob entra in controllo.
G3 un Galvanic Relay la porta a casa rivelando doppia Duress per toglierli i counter e vincere poco dopo.
Side out: 1x Sign in Blood e 1x Faithless Looting
Side in: 2x Duress
TURNO 3 vs Marco Candela (lostonkato)
Il caro Marco gioca affinity con 2x Dispel e 2x Echoing Trouth maindeck perché gli stanno molto simpatici gli scoiattoli. G1 vinco il dado, lui mulliga a 4 allora decido di fare una sotormata prematura per 5 scoiattoli e potenziare Galvanic Relay che mi consentirà di fare altri 10 scoiattoli il turno dopo, Marco spacca stelle come un disperato e gioca sassi per vedere Echoing che non vede contrasti e concede.
G2 Marco è freschissimo, turno decisivo ha praticamente tutto quello che un affinity vorrebbe vedere un krark clan shaman in campo e 2xEchoing in mano; ma il mazzo non vuole perdere e allora faccio un turno di set up con First Day of Class, per prendere Introduction to Annihilation, e una Galvanic Realy da 6 con la quale vediamo l'unica Duress del mazzo (perché sono babbo e l'altra l'avevo tolta) per togliere una Echoing, rimuoviamo il krark clan e poi inizio a pescare fino a quando non vedo Seal of Fire che mi copre dalla seconda Echoing che ha in mano spaccandoci il token targetatto (che tech) e si vince gg.
Side out: 1x Sign in Blood, 1x Duress e 1x Faithless Looting
Side in: 1x Seal of Fire, 2x Mogis's Favor
TURNO 4 vs Lele Tribulato (Akromes)
Lele gioca UW come Jacob. G1 vinco il dado e come contro Jacob, Duress mi fa vincere.
G2 vi direi di guardare il video sul canale twitch di mtgsalento perché è una cosa senza senzo, turno1 faccio Galvanic Relay da 7 e turno2 scombo perfetto pescando a chiamata, mi sono sentito un maiale più che un fritto hahahah.
Side out: 1x Sign in Blood e 1x Faithless Looting
Side in: 2x Duress
CONCLUSIONE
Il mazzo è veramente ROTTO, se poi lo giochi con due angeli custodi e vinci sempre il dado allora diventa imbattibile. Le combinazioni di pescate possibili che si incastrano sono molteplici ma non tutte intuitive, o meglio, bisogna adattarsi alle pescate e cambiare anche piano in corso d'opera. Siamo stati diversi minuti a discutere tutti e tre sul da farsi, come iniziare la scombata cosa giocare per prima o seconda spell, e grazie al calcolo probailistico del buon Mazzola e alla super visione di gioco del Biscia tutto è andato sempre secondo i piani (il Biscia che giocatore). Diciamo che oltre a noi tre c'era anche il mazzo che non voleva perdere e ci dava le pescate che volevamo, o forse quello è dato dalla build del deck che permette queste molteplici combinazioni, non lo sapremo mai. L'unica cosa certa che sappiamo però è che:
"Galvanic Relay è meglio di 8 carte di side" (cit.).
Riassumendo il mazzo è un two card combo che diventa quasi un one card combo con Galvanic Relay (la vera chiave del mazzo), la resilienza del mazzo è data dai molteplici peschini e dal fatto che le carte fanno un po' tutti la stessa cosa permettendo quindi più combinazioni possibili, infatti, tralasciando le mani lineari, anche una mano per c.d. "bruttina" con una sola pescata ti può portare a chiudere quel turno stesso.
Vincere è sempre bello, ma vincere insieme è ancora più bello. Il premio verrà devoluto all'Associazione Pauperwave al fine di contribuire a migliorare le iniziative in corso.