Articolo di Alessandro Moretti
Lunedì 7 ottobre verrà aggiornata la Banned & Restricted List di MtG, negli ultimi mesi nella community internazionale si è tornati a parlare della necessità di bilanciare il formato e noi abbiamo diversi scenari che si aprono alle porte.
Questo perché il Pauper attuale, parlando soprattutto del metagame online vede una grossa presenza di strategie basate su Ghostly Flicker e su Ephemerate, che possiamo racchiudere nei due insiemi più rilevanti come Jeskay Blink e Flicker Tron. Questi due macro-archetipi limitano i midrange ed i control giocabili, apparentemente.
Le prime domande che ci dobbiamo fare riguardano il ban stesso: è necessario? siamo ad un punto in cui non c'è altra soluzione?
Premessa: io ho una mia opinione a riguardo, ma penso che sia necessario fare un discorso più ampio, andando a giustificare i pro ed i contro a riguardo di ogni scenario di cui andremo a parlare.
Non è mio interesse accusare nessuna figurina e mi piace il meta attuale, oltre a questo mi piace speculare sul meta e analizzarlo.
Metagame Pauper post Modern Horinzons
Recap storico:
Gush, Daze e Gitaxian Probe hanno da poco salutato il formato, ma esce una nuova espansione (un Masters set praticamente) che non presenta carte già legali in modern ma solo ristampe dal legacy o carte completamente nuove di stampa.
Con l'uscita di scena di UB Delver, ci aspettiamo tutti Boros Monarch, Boros Bully e Flicker Tron come i 3 archetipi dominanti e, di conseguenza, Mono U Delver e UR Delver non presenti in meta a causa dei Boros Midrange decks.
Winding Way, Savage Swipe e Arcum's Astrolabe sembrano le migliori carte dell'espansione e nessuno inizialmente pensa che Ephemerate possa essere migliore di Ghostly Flicker in molte situazioni, paragonandola solo a Cloudshift per via del costo di mana e dell'effetto (escludendo rebound ovviamente).
Inizialmente vediamo un impatto sul formato prevalentemente a carico di Arcum's Astrolabe in Tron (arrivano liste con 8 copie di Prophetic Prism), Boros Monarch, Orzhov Monarch e un concept alternativo a Orzhov e Corrupt Control che prenderà il nome di Chromatic Black che utilizza 8 prismi, Glint Hawk e Kor Skyfisher.
Arcum's Astrolabe, grazie al buon cmc riesce inoltre a portare alla ribalta la combinazione di colori Jeskay, non più come il vecchio Kuldotha Jeskay ma in chiave più aggressiva.
In seguito all'esplosione di diverse versioni di Jeskay (una versione midrange con le fatine ed una Control che praticamente sfrutta Astrolabe solo come manafixer e non come value engine, escludendo le 3-4 copie di Kor Skyfisher md) vediamo un ridursi molto importante di mazzi come Boros Bully, Boros Monarch e tutti i Bx Midrange e Control che non riescono a gestire bene il late game contro Jeskay e Tron.
L'assenza di archetipi col nero e la naturale predisposizione degli archetipi Aggro verdi verso UR (e la mancanza di Elves) rende il meta molto favorevole a Mono G Stompy e Aura Hexproof.
Tron e Jeskay, due facce della stessa medaglia
Il macro-archetipo Jeskay (potremmo distinguere una versione midrange e una control; nel caso non dovesse arrivare la ban axe scriverò un articolo specifico) è considerabile in breve come un mazzo da mid-/late-game, che presenta l'adagio italiano del "50-50 da tutti" e che può ripartire dal nulla con un topdeck nel mid-late game grazie alla combinazione di Mulldrifter, Archaeomancer e Ephemerate.
Flicker Tron sfrutta un identico motore di value, ma al momento, più che un ruolo tradizionale di Control deck, cerca di proporre una strategia esclusivamente orientata su un game Lock/Prison di Mnemonic Wall con Ephemerate o Ghostly Flicker, accelerando la partita verso la terza fase del game grazie al mana ramp delle urzalands. A differenza di Jeskay, vediamo che Ephemerate performa peggio a causa della mancanza di counterspells in numero adeguato (le liste attuali soffrono una interazione eccessiva da parte dell'avversario), mentre Ghostly Flicker rimane prestante e può reiterare molto più spesso doppio manarock così da essere una carta molto più utile e versatile rispetto al meta pre-MH1.
Il late game di un "mirror di ephemerate/flicker" è oramai caratterizzato dal cercare di raggiungere per primi il Blink Lock, dato che una volta che riusciamo ad avere una risposta extra a turno in mano grazie ad Archaeomancer / Mnemonic Wall + Ephemerate il game è molto spesso vinto.
I colpevoli
Arcum's Astrolabe: inizialmente il miglior manafixer di mtg per Legacy, Modern e Pauper (dopo Mox Opal e simili) è stato additato di ledere la varietà del formato. La combinazione di Kor Skifisher, Glint Hawk e Arcum's Astrolabe provvede a tutti e ad un costo irrisorio delle validissime ed economiche creature ed un manafixing ottimale.
Esempio di questa febbre di astrolabio sono Orzhov Monarch, Chromatic Black e Aura Hexproof.
Oltre a questo, il manarock sarebbe colpevole di fornire un manafixing troppo efficiente, rendendo possibile giocare dei veri e propri good stuff value deck con 3 o più colori.
Kor Skyfisher: è la creatura migliore che possa generare value con AA. In realtà penso si possa escludere a priori un ban di questa carta che, pur essendo versatile, può essere considerata al pari di Augur of Bolas, il che significa che è un ottimo body se comparato al cmc, ma non appare problematico per la salute del formato.
Ephemerate: indagato numero 1, le sue qualità hanno letteralmente permesso a UR Flicker di risorgere e diventare Tier1 (l'attuale Jeskay Control).
I punti a favore, rispetto a Flicker:
Gioca attorno a Relic of Progenitus grazie a rebound. Ephemerate viene esiliata quando la lancio dalla mano, questo vuol dire che posso salvare carte al cimitero grazie ad essa e che può essere esiliata solamente eliminandomi tutte le creature in campo o eliminando il cimitero dopo il rebound.
Non necessita di due creature in campo. Ghostly Flicker necessita di due muri (o archeomanti) per riprendere 1 carta dal cimitero, Ephemerate può funzionare con 1 sola creatura e può blincarla due volte.
Costa sempre e solo 1 mana. Enorme vantaggio tempo rispetto a GF, non necessita di build specifiche con Sunscape Familiar o urzalands.
I motivi per desiderare di rimuovere questa carta sono due: Mulldrifter e Archaeomancer/Mnemonic Wall.
Il pesce magico può fare una delle giocate più odiate del Pauper 2019: t4 evoke drifter pesco 4, t5 pesco altre due carte a gratis. Spesso il mirror di Jeskay può venir vinto così.
Muro e maga ovviamente creano un Lock; più tempo passa più il vantaggio generato da Ephemerate in questo scenario aumenta e allora difficilmente si riesce ad uscirne.
Urzalands: se da un lato Jeskay può risultare costrittivo per il metagame, dall'altro la macchina di value e fog effect nota come Tron (ovviamente mi riferisco alle versioni che abusano del lock di Mnemonic Wall e GF/Ephemerate) è ancora una strategia valida e anzi rimane assieme a Jeskay una delle due strategie dominanti. Se da un lato vogliamo rimuovere dal formato Ephemerate per uccidere Jeskay, con Flicker Tron si corre il rischio di avere un archetipo overperformante rispetto alle soluzioni che altri archetipi possono giocargli contro.
In tal senso rimuovere dal formato Urza's Tower, Urza's Power Plant e Urza's Mine è la soluzione migliore per rimuovere il problema chiamato Tron. Ma il problema dato dai Blink.deck (se un problema di questo tipo esiste) rimane, motivo per cui non lo ritengo utile.
Mulldrifter: può uno staple del formato diventare improvvisamente pesante per la salute di esso? Dipende dal bilanciamento del formato stesso. Solitamente la situazione che si genera attorno alla carta parte con l'essere critica o per lo meno viene aggravata da aggiunte (o fuoriuscite) dal formato. Se vogliamo metterla su questo piano quindi, Mulldrifter ha aumentato considerevolmente il suo power level a causa del ban di Gush.
Spieghiamoci meglio: gli archetipi naturalmente preposti per battere i control deck (jeskay ephemerate e flicker tron) con Mulldrifter erano mazzi con Gush (Ux Tempo e Ux Combo); questi ultimi soffrivano da Midrange col bianco o col nero per via di hate card specifiche.
Al momento possiamo dire che gli archetipi più performanti del formato sono quelli che riescono meglio a blinkare Mulldrifter, creatura che di per sè uccide Midrange e Control che non possono fare un card advantage al pari un mazzo che può blincare l'elementale.
Ghostly Flicker: ultimo dei sospettati è l'instantaneo che nessuno pensa sia bannabile dato che esiste Displace. Ebbene, possiamo dire che Displace è nettamente inferiore a GF non potendosi riciclare rimbalzando doppio artefatto (Prophetic Prism e Arcum's Astrolabe), non può salvare prisma da Smash to Smithereens e terra da Molten Rain e non può permettere giocate come blincare torre e prisma per ciclare a gratis la spell. Adesso si giocano anche 3 o 4 copie di GF per via della sua flessibilità, avrebbe senso farlo anche con una sua versione non flessibile?
P.S. Benvenuto Mystic Sancturary, vedo che in Familiar te la cavi bene per pescare il mazzo con drifter, flicker e due famigli.
Scenari
Appurato quali sono le carte sulle quali discutere, capiamo quale combinazione di queste potrebbe doverci dire addio. Sempre se, come già detto, sia necessario un ban.
Tesi: un Ban è necessario.
Il formato è dominato dal Lock di Ephemerate o Ghostly Flicker, se vuoi giocare un mazzo deve lockare con un Mnemonic Wall / Archaeomancer o vincere prima che l'avversario possa lockare.
I mazzi con Ephemerate possono giocarsela con tutti perché dal nulla possono vincere al top deck blinkando un muro o un drifter.
Non si può giocare il colore nero e mazzi come Boros Monarch sono comunque al limite del giocabile e solo perchè molte persone giocano Aggro per stare bene da Jeskay.
Antitesi: non è necessario nessun Ban.
Il meta si deve assestare, possono uscire nuove carte capaci di neutralizzare Ephemerate e comunque sono già presenti nel formato carte e strategie che stanno bene da Ephemerate.deck.
Un meta ricco di mazzi come Stompy o Elfi non è brutto e comunque Jeskay vince poche Pauper Challenge o tornei cartacei.
#1: solo Ephemerante
Modern Horizons ha generato un metagame piuttosto particolare, Jeskay è la shell più giocata e ciò che lo rende performante sono l'insieme di risposte che può offrire e il Lock di Ephemerate.
Bannare unicamente Ephemerate porta a non avere più Jeskay Blink (la versione control) tra i tier 1, semplicemente Ghostly Flicker costa 2 mana extra ed 1 creatura in più (questo secondo fattore decisamente più rilevante).
Jeskay Midrange rimane giocabile ma perde un buon late game (per quanto Mulldrifter rimanga ampiamente giocabile), tornano Orzhov Monarch e Boros Monarch e di conseguenza Aggro e Combo diventano meno performanti. Tron passa ad una versione con più interazione e/o manipolazione e meno orientata su Stonehorn Dignitary.
In questo scenario c'è il rischio di trovare nuovamente un meta dominato da un numero limitato di strategie, questa volta Flicker Tron e Wx Monarch.
#2: solo Arcum's Astrolabe
Per come si è sviluppato fino ad ora il meta, bannare il mana rock non è utile al momento. Depotenzia la manabase di Jeskay e Tron, ma li lascia ancora molto giocabili, per quanto meno flessibili o brainless (se permettete il termine). Bannare astrolabio avrebbe senso solo come misura preventiva nel caso anche altro venisse bannato e si volesse ridurre la quantità di Kitty deck in meta (compresi Boros e Orzhov).
#3: solo Mulldrifter
Bannare solo Mulldrifter sarebbe una scelta dettata unicamente allo scopo di lasciare presente nel meta delle forti strategie Blink (Fog Tron e Jeskay Blink), ma depotenziandole in modo da aprire la strada al ritorno dei mazzi midrange che non usano il blu e Mulldrifter.
Voglio sottolineare che il gameplan value che mazzi come Tron adottano si basa unicamente o prevalentemente su Mulldrifter.
#4: Ephemerate, Arcum's Astrolabe e Urzalands
Chi propone il ban di questa combinazione di carte vuole depotenziare sia Jeskay che Tron, tralasciando però gli altri Blink.deck e volendo depotenziare strategie Blink e Kitty, ritenendo probabilmente un errore la presenza nel formato di mazzi tricolor o 4c.
Per quanto possa sembrare strano, archetipi come Kuldotha Jeskay, Mardu Metalcraft o Grixis Metalcraft erano scelte di meta molto in voga 4 o 5 anni fa. Il manafixing ovviamente era dato dalla combinazione di Prophetic Prism e taplands e il metagame era più lento.
Questo ban rischia di premiare unicamente gli archetipi Monarch. Per quanto archetipi come UB Flicker o UB Alchemy possano tornare in voga, rimangono Control deck con un motore di card advantage nettamente inferiore al monarca per efficienza e il rischio quindi risulta essere semplicemente quello di avere un formato dove si possano giocare solo Monarch o anti-Monarch, il che non differisce dalla situazione attuale, dove il problema viene identificato sotto forma dei mazzi Blink.
#5: Ephemerate e una tra Mulldrifter e Ghostly Flicker
Se dovessi pensare ad un ban per il metagame attuale, questo è quello che ritengo la soluzione migliore per cercare di generare un metagame più vario e bello da giocare.
Ephemerate crea snowball imbarazzanti dai quali non si può uscire a meno che l'avversario non abbia almeno 2 o 3 risposte o carte extra a turno e tagliandolo riduciamo partite non giocate dove l'avversario Locka il game o pesca 6 carte mettendo un body evasivo ad un costo di mana ed una velocità sbagiate per la qualità delle risposte o dei threat che gli possiamo giocare contro.
La scelta tra Mulldrifter e GF verte su cosa si vuole ridurre di importanza nel formato. Mulldrifter è una carta universale che genera value in qualsiasi situazione e non è risolutiva solo quando neutralizzata o quando non si ha abbastanza mana a disposizione (e ovviamente non ci peschi una soluzione in una soluzione critica).
Bannare Mulldrifter vuol dire rallentare i Control deck e limitare lo snowball (cioè il vantaggio crescente e non recuperabile) che un mazzo basato su Ghotsly Flicker (Flicker Tron, Familiar) può generare.
Bannare Ghostly Flicker serve solo per limitare i Flicker deck e da solo probabilmente non ha valore, necessitando per forza del ban anche di Mulldrifter per avere un impatto sufficientemente valido. Ricordiamoci comunque che potendo bersagliare anche carte come Arcum's Astrolabe e Mystic Sanctuary, GF rimane una spell estremamente versatile che rispetto a Displace può essere affrontare al meglio solo giocando counterspells ed hate specifico.
Conclusioni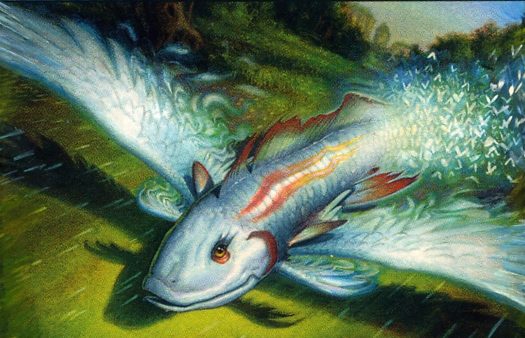 La mia idea è che nel giro di 6 mesi o 1 anno vedremo la necessità di bannare almeno una carta che permette alle strategie basate sui blink effect di essere dominanti e le motivazioni sono in realtà più semplici di quanto possiamo pensare.
Io, non stoico, ritengo che il precedente ban di Gush abbia sbilanciato il formato; per quanto Dimir Delver fosse chiaramente un problema, ci siamo trovati senza il miglior tipo di strategie per contrastare i mazzi che nel late game cercano di sfruttare al massimo Mulldrifter e con Ephemerate che aiuta questi mazzi a spostare fuori dal meta mazzi come MBC e Boros Monarch che giocano carte altrettanto impressionanti come Palace Sentinels e Thorn of the Black Rose.
Sapendo come solitamente Wizards of the Coast si muove a riguardo di questo tema, la mia previsione per il 7 ottobre vede due scenari possibili:
No change, ma probabilmente alcune carte saranno sotto osservazione.
Ban di Mulldrifter, Ghostly Flicker ed Ephemerate.
Considerando anche la stampa di Mystic sanctuary ci troviamo ad avere Ghostly Flicker che diventa un qualcosa di completamente fuori misura rispetto a Displace.
Mulldrifter è un card draw engine E una chiusura.
Ephemerate è de facto un Lock di due carte con Archaeomancer.
Se dovessi scegliere io invece, preferirei un formato dove Mulldrifter sia legale e non si possa abusarne, per cui preferirei che fosse Foil a venir bannata anziché Gush, cosìcché con Gush e Mulldrifter legali, solo Ghostly Flicker ed Ephemerate, i due blink effect problematici, potrebbero salutarci.